I know it's late, but its been a crazy busy summer — hey better late than never, right? So anyways, another month has past and it's time for another net worth update. Below are July's numbers: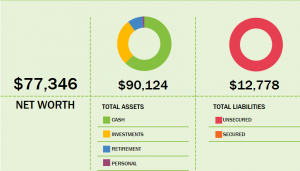 July, 2015 Net Worth: $77,346 (+$2,424)
I did a little better this month compared to last month. The reason for the increase is has a lot to do with the recovery of my brokerage and retirement accounts. Back in June, the stock market was down which in turn lead to a decrease in both my brokerage and retirement accounts. Luckily, they recovered in July.
Assets

Cash
Cash / Savings: $46,580 (+$1,402)
My cash savings is up $1,402. The increase is from money I earned from my job primarily.
Certificates of Deposit: $9,526 (+$14)
I received $14 in dividends in July.

Investments
Stocks (Brokerage Account): $22,224 (+$523)
The value of my brokerage account increased by $523. This was due to an increase in the market.
Bonds: $2,710 (+$0.00)
One of these days I'll go on the treasuries website and update the value of these.

Retirement
IRA Account: $8,084 (+143)
The stock market increased, creating an increase in my IRA account.

Personal
Automobile: $1,000 (+$0.00)
I don't believe this amount will change anytime soon.
Liabilities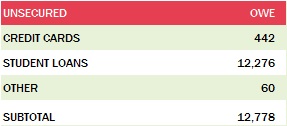 Debt
Credit Cards: $442 (

+$90

)
Student Loans: 12,276 (

-$433

)